How to Use Voice Typing in Google Docs: The voice typing facility was introduced in Google Doc a long time ago, in 2014. At that time, of course, its name was Voice Action. And this tool was developed by Google Lab, a subsidiary of Google Inc. Google has made it much more user-friendly by adding various features over time.
Speech-to-text or STT technology for short is called voice typing. Hearing a word from a person's mouth turns it into writing with the Help of voice typing.
Although this technology has been used in many fields for a long time, it came into the hands of ordinary people only a few days ago. Google's contribution behind this is undeniable. This feature is now available in all Google products. Even on Android phones, it can use this voice typing to write English and most of the world's languages. Let us know the beginning and end of How to Use Voice Typing in Google Docs.
Step by Step Guide: How to Use Voice Typing in Google Docs?
Many of us know what Google Docs is and how to use it. Today we will talk about How to Use Voice Typing in Google Docs and the voice typing feature of Google Docs. I will discuss how to start it, what can be done to help it, what languages to support.
Using Voice Typing in Google Docs is essential to have two things on the computer. One is the microphone. The other is the Google Chrome browser. You cannot use the voice typing feature without one of these two.
Assuming your computer has these two things. Let's take a look at what you need to do to start voice typing.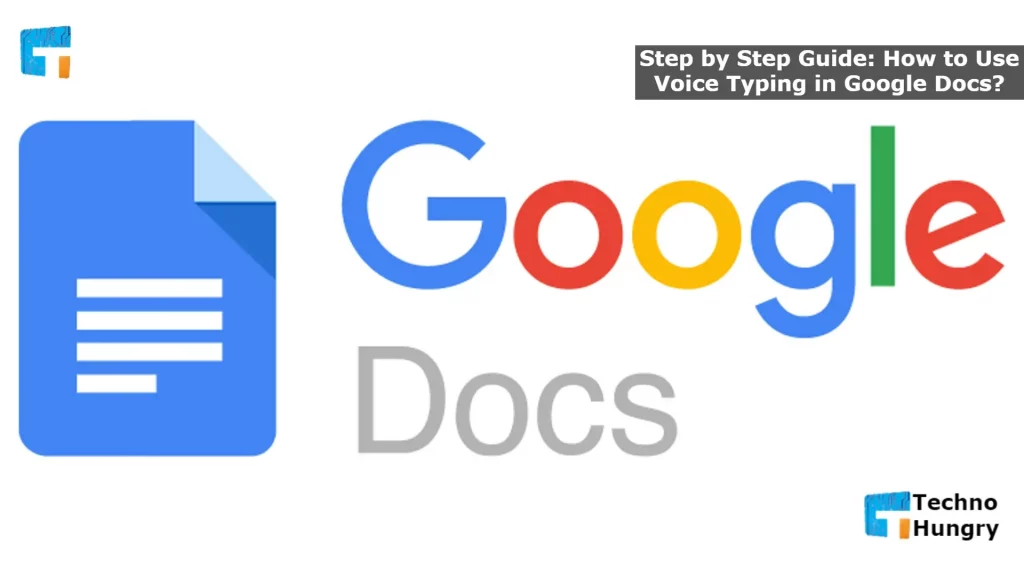 How to Start Voice Typing?
Before you start voice typing, first make sure your computer's microphone is on or working. Thinking again about the range of writing, I assume that your microphone is working correctly.
Now open the Google Chrome browser and go to Google Doc and open a document.
Now click on Tools from the menu bar, click on Voice Typing. Or press Ctrl + Shift + S as a shortcut.
On the left side of the screen, you will see a small floating interface with the microphone icon at the top. Clicking on it will start voice typing.
Now say whatever you want to write.
How to Add Punctuation on Google Voice Typing?
A common complaint with voice typing is that it cannot use punctuation. However, in the case of Google Docs' C voice typing, that allegation is ineffective. Because, besides writing words, there is also a system of giving punctuation or punctuation marks using voice. E.g.,
Period
If you say it after a word, the sentence will end. That is, it will come to a complete stop.
Comma
If you say it after a comment, there will be a comma.
Exclamation point
If you say it after a word, there will be an exclamation mark.
Question mark
If you say it after a comment, there will be a question mark.
Newline
Saying this after a word will create a new line. That is, pressing Enter will work.
New paragraph
Saying this after a term will create a new section.
Note, however, that this punctuation feature is currently only valid for German, English, Spanish, French, Italian, and Russian.
Also Read: How to Export Google Keep Notes to Google Docs?
Which Languages ​​can Voice Typing be Done in Google Docs?
You can write in 119 languages ​​using voice typing in Google Docs. It means that even if you speak any language, you can type it in the voice typing tool in Google Docs. Google's STT technology or voice typing feature currently works in about 119 languages, not just English. If you want to do voice typing in any language in the world in Google Docs,
Turn on the voice typing option from the menu or by pressing Ctrl + Shift + S.
Now click on the English (UK) text above the small floating interface.
Here you will find a list of all the languages.
Select your favorite language from here.
Then voice typing will be activated, say what you want to write using your selected language.
Further Use of Voice Typing Tools in Google Doc
Voice Typing This feature allows you to do almost anything in the document except writing. Such as text selecting, document formatting, creating and editing tables, moving anywhere in the record. Even voice typing can be turned off or on again. There are different voice commands for each task.
To know these voice commands, that is, to see the complete list of voice commands, all you have to do is,
As before, first, turn on the voice typing option by pressing Tools >> Voice Typing or Ctrl + Shift + S.
Now click on the floating interface that you see in the corner of your screen. You will see a question mark in the bottom right corner.
You will see a new floating window called Help on the right. When you scroll down one step, you will see the category of voice commands in Step 3. You can see the specific commands by clicking on them.

Like using punctuation, voice commands will not work in all languages. Voice commands will only work in English. You can only use voice commands if English is selected for both your Google Account and Google Docs.
Also Read: How to Delete Shared Files from Google Drive?
The voice typing feature in Google Doc is handy for those bored with typing or who are not fast at typing. Also, if you have a problem with spelling, voice typing is a great solution. Let us know in the comments how you feel or if there is a problem with voice typing. Here you know about How to Use Voice Typing in Google Docs. If you find this post helpful then share it with your friends.