Save Image as MS Excel Spreadsheet: When it comes to storing images without any quality distraction, JPEG is the ultimate format to retain optimal outcomes. It is referred to as the most useful image type that highly compatible with digital cameras and all operating systems.
On the other hand, MS Excel is a document format that is mainly considered by experts for organizing data at an optimal level. However, if you have images of your organized table data and want to extract that all for editing concerns, then you have to convert them into Excel with an online JPG to Excel converter for free.
5 Free Tools to Save Image as MS Excel Spreadsheet
No matter how many JPG images you want to convert to Excel spreadsheets, you should always aim for the secure version of an image-to-XLSX converter that keeps your files safe. Luck for you, you can now securely export JPG image data into an Excel worksheet with JPG to Excel converter by theonlineconverter.com which is fully compatible with all OS.
Well, here we are going to reveal the best images to Excel converter sources that use advanced OCR (Optical Character Recognition) algorithm for exporting JPG data as an Excel spreadsheet. Choose one or a couple of them to make quick and reliable conversions for particular formats.
OnlineOCR
OnlineOCR is a well-known web-based application through which users can be able to make transformations for different file formats for free. You can consider its best JPG file to Excel converter which enables quick conversions from photos to Excel document files.
Besides that, this source requires only a couple of steps to convert images to Word, Excel, and even the text format. The most auspicious reason behind using this handy platform is that it is loaded with 40 different languages for recognizing files.
Additionally, you can be able to import different image formats such as JPG, BMP, or PNG for exporting into an Excel document spreadsheet. Remember that this online platform allows you to transform a maximum of 20 images at once for optimal outcomes and is highly supportive of all OS and modern devices.
How to Change JPG to Excel with OnlineOCR?
Initially, you need to simply choose the Select File option to add a JPG image.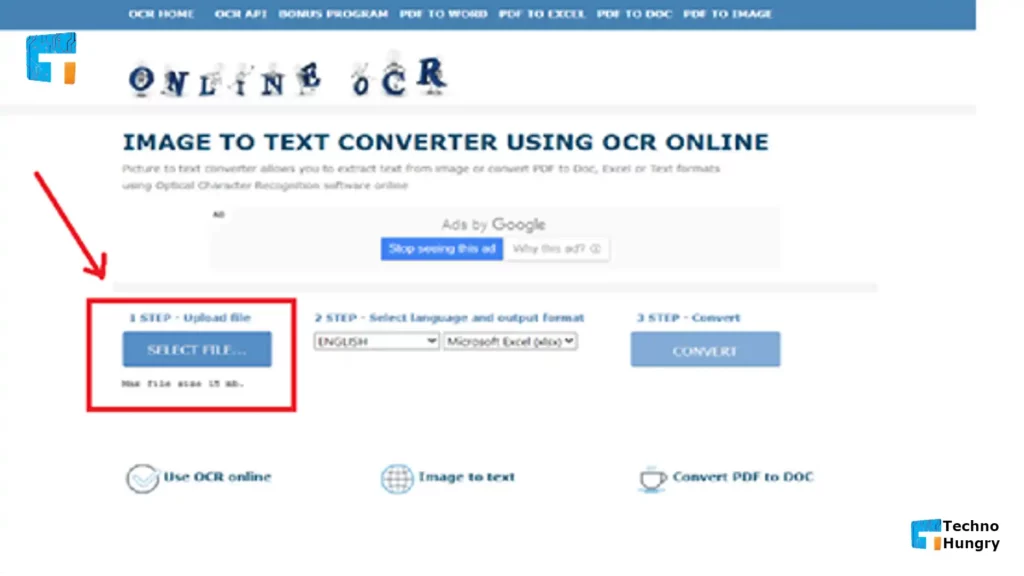 Now, it's time to make a selection for the file language and set the output file format as Excel.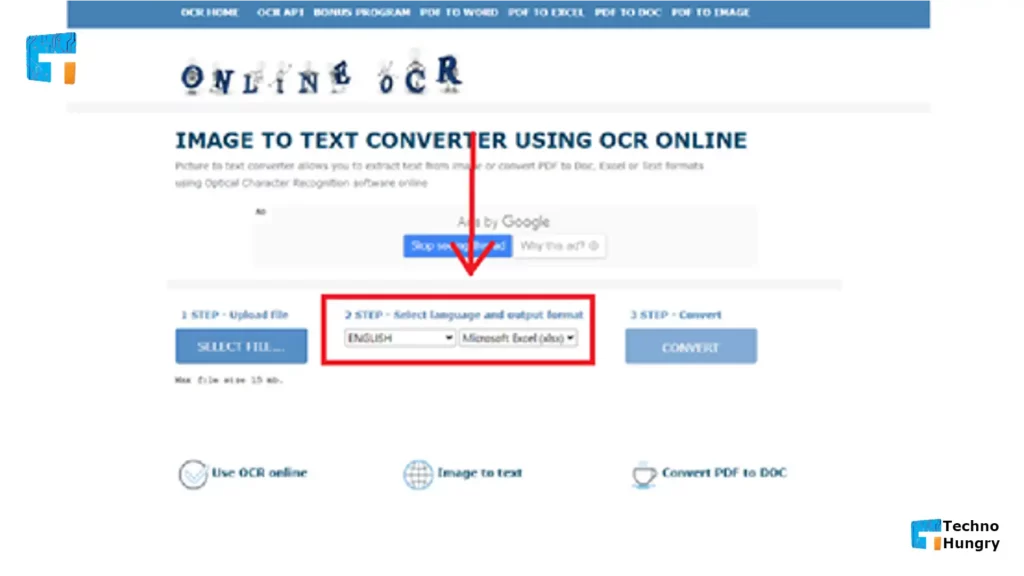 Now click on Convert to convert the JPG image to Excel document format.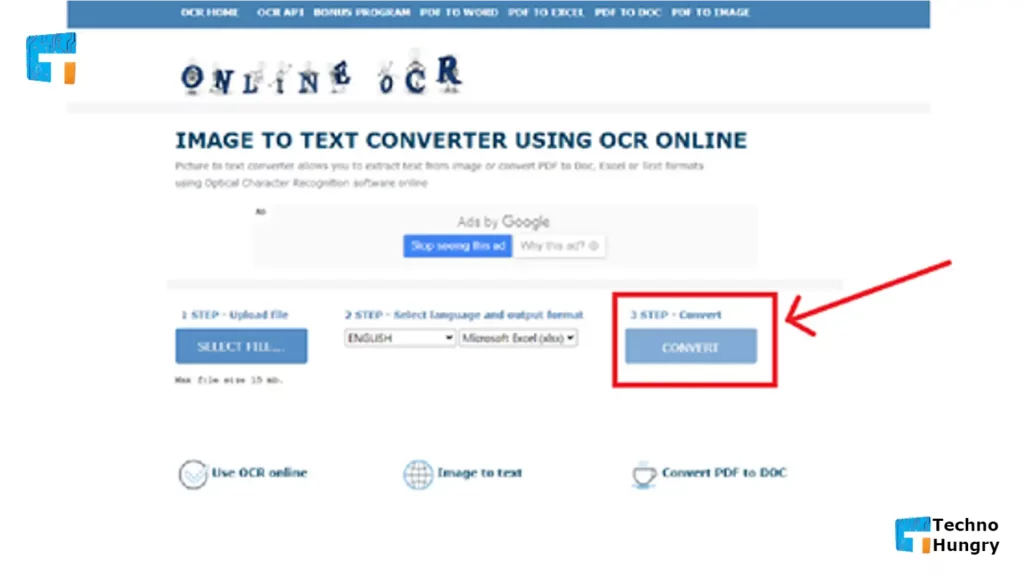 Wondershare PDFelement – PDF Editor
If you are seeking for swift, cheap, and easy-to-navigate way for converting JPG images to Excel data format, then Wondershare PDFelement is the perfect option. This JPG to Excel converter program assists you to export JPG images to xlsx file format across mobile, desktop, and web.
Apart from proceeding with conversions, one can easily change the sizes, colors, and font styles of the text as well as the shape by using this application. No matter whether you're a beginner or a professional, it works efficiently without any quality distractions.
So, account this photo to an Excel converter right now to process the instant conversions by using its simple interface.
How to Turn JPG into Excel with PDF Elements?
Initially, you need to launch the PDFelement and choose the Create PDF option to attain the picture for converting.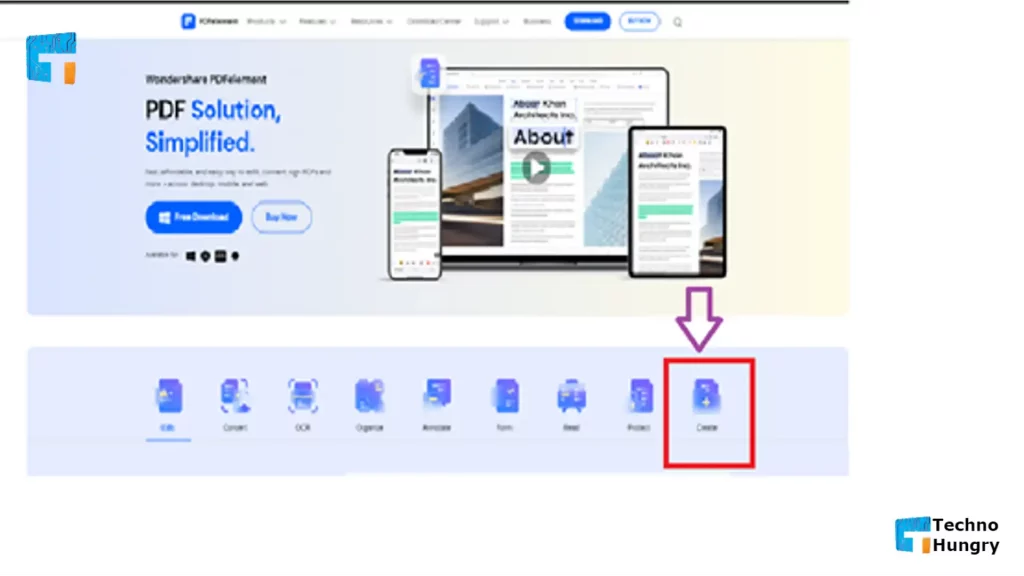 Once you opened your image file into this program, you can see that it clearly created an image-based PDF. This is the place where a notification bar is shown for executing the OCR technique.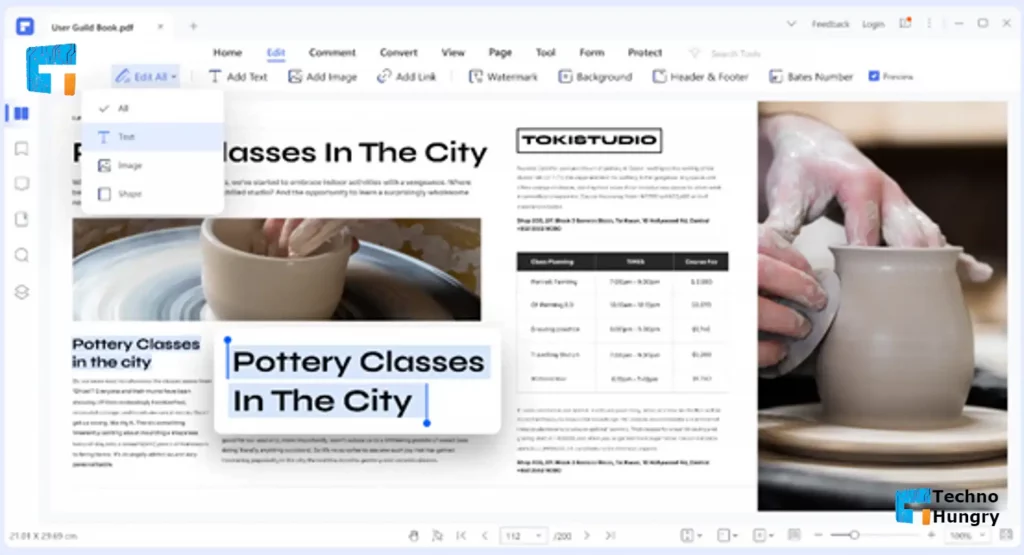 In the given OCR pop-up window, just make a selection for the Scan to Editable Text option and then make a choice with the Change Languages option according to your preferences.
Finally, just click on the Convert button and then just choose the To Excel option for creating Excel from JPG image.
Theonlineconverter
Theonlineconverter online web-based application is a freeware utility by experts that is mainly designed to provide high-quality results for different file formats. Get a free JPG to Excel converter from this source and see how efficiently it uses OCR for turning JPG into an Excel spreadsheet format.
Although it provided you with free conversions from pictures to Excel files, still never compromises the layout of the resultant files.
Apart from this image to worksheet conversions, one could consider this online program to proceed with conversions for any compatible file types. Even one could readily compress (reduce), merge, lock, and even unlock (decrypt) PDF document files with this assistance.
How to Convert JPG to Excel Using theonlineconverter?
Add the JPG or even the JPEG image files into the main toolbox of this online Picture to Excel converter.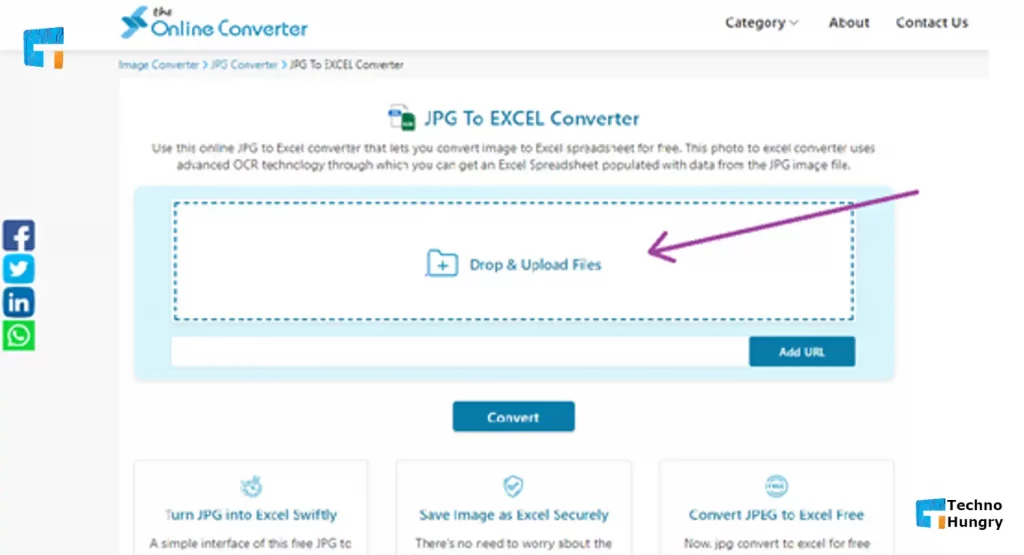 Just click on the Convert button and let this tooling process conversions using the best OCR feature.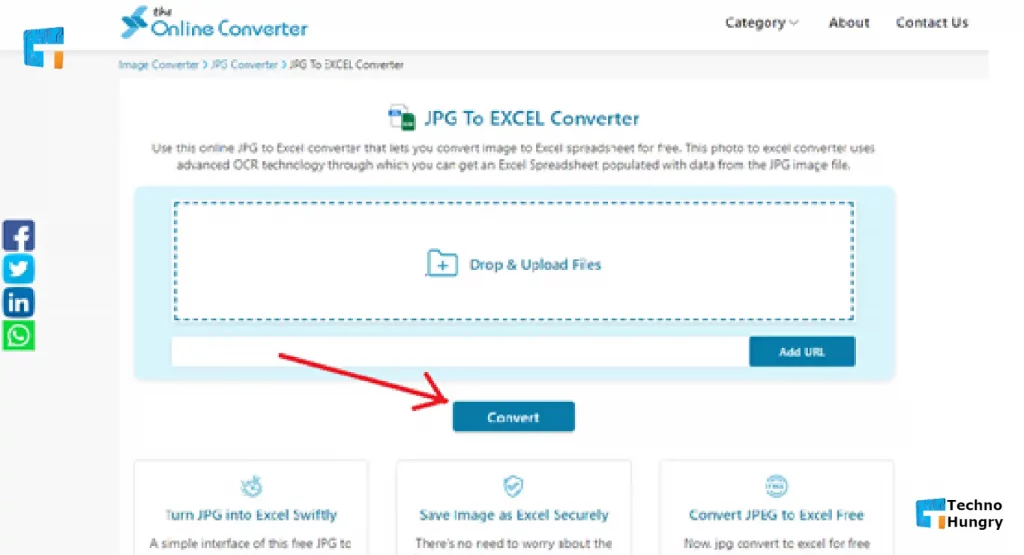 Finally, just choose the Download Zip option which lets this converter store all the converted Excel xlsx files into a single Zip file for your convenience.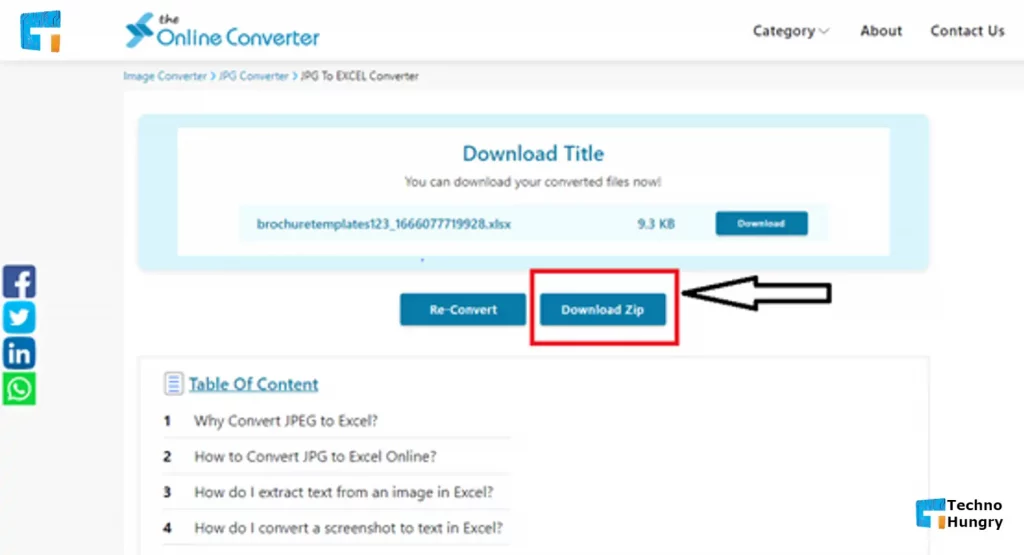 Like More: Why Convert DOC Files to PDF Format?
Zamzar
Although this Picture to Excel converter does not directly save JPG as an Excel spreadsheet, still it provided you with optimal outcomes. You can find that it first of all changes the image into Adobe PDF and then further exports PDF as Excel worksheet format. The most apparent reason behind discussing this source is that it is highly capable of yielding good-quality conversions.
Plus, this online web-based application allows you to transform files virtually such as audio, videos, documents, eBooks, archives, and more.
How to Convert JPG to Excel Online using Zamzar?
At first, you need to simply click on the Add Files option through which you can easily import the images for conversion
Choose the output format as Adobe PDF, then click on the Convert Now button for turning JPG into PDF
Right after that, you need to upload the converted PDF document file to the Zamzar again
Now, its time to hit the output as the Excel spreadsheet format
Then, you need to hit the Convert Now button and let this photo to Excel converter turn JPG into Excel format
Online2pdf
If you're seeking a top-notch online application that is loaded with the best JPG to XLS converter, then Online2PDF is the ultimate option for you. You can account for this application right now to transform PDF and image files swiftly, and even it works best for editing, compressing, unlocking, locking, and merging (combining) PDF files for free of cost.
Well, if your JPG image stores a table, this image to PPTX converter assists you to recognize the tables in original formatting quickly.
How to Convert Image to Excel free with Online2pdf?
Start with choosing the "Select files" option through which you people can easily add JPG image files into this best picture to XLS converter
Now, you need to choose the Excel spreadsheet as the output format and then simply select the file language for OCR options, in the given preference option, you can easily customize the transformed Excel sheet (if needed)
Right after that, you need to hit the Convert icon of this converter to change the image file to Excel online
Once the photo-to-Excel file conversion is completed, you can see that the converted Excel spreadsheet file will be saved (downloaded) automatically
Cisdem PDF Converter OCR
Cisdem is a highly preferable medium that works for converting any PDF files and images into 16 formats such as PDF to DOC, Excel, PPT, iWork formats, HTML, eBooks, and more. It is even packed with amazing OCR features that mainly recognize the images and swiftly export to optimal editable formats while retaining original formatting.
The great about this application is that it has OCR functions for all screenshots, and photos in BMP, JPG, GIF, and more and even this is 100% free.
How to Convert Photos to Excel with Cisdem?
Fetch the Cisdem Converter interface
You have two different ways to add files to this program
Either just drag n drop the files or just click on the + button for adding the files for conversion
Once your JPG image file is fully imported to this converter, you can find that it will be under OCR mode by default
Then, make click on the image icon to get the file preview
Very next, select the file language or simply choose the output in Excel format
Here you can fetch the Advanced Settings option, you can find a new interface with the OCR area fully marked
You should make sure that all the parts are properly marked for the image
Plus, you can be able to manually modify, if you require to output a table as text, you ought to simply remove the marked box in this zone, just click on the Mark Text in the OCR applied zone. Now, you need to drag a mark box to include those contents that you need to mark as Text
Also, one could easily resize the marked box by swiftly dragging its corners from all sides
This is where you have complete the customization
Then, hit the Convert button to commence the JPG file to excel conversion process
Navigate to the output folder to attain the converted Excel file
Read More: How to Convert JPG to Text File?
Last Words
So, what if you receive an essential spreadsheet as a JPG image file, this is where you need to export it as an Excel spreadsheet document file. And, thankfully, you people encountered the most preferable ways for converting one or a batch of JPG images into Excel files without any quality loss.