A complete guide about how to make a private story on Snapchat? I would like to tell those who don't know about this that you can create a private story through Snapchat if you want. This will enable you to prevent your post from becoming public.
This article aims to present the perfect and easy way to do that. So, you need to read 3 ways how to make a private story on Snapchat published below.
What is a Private Story and How Does it Work on Snapchat?

A private story refers to a setting where a group of selected people can view the shared story, and only the editor has the right to post the snaps. While the selected friends can see all of the stories of the editor, the non-selected friends cannot even know about the private stories. It makes sure that you feel more secure and that your moments are under your control.
How to Make a Private Story on Snapchat in 2022? – 3 Easy Ways
To share your moments through pictures or snaps with a group of people, the Snapchat app is one of the best choices for you. However, you may not want to share all of your moments with everyone.
But only with some special people, or even just want to save them for yourself and not wish to share them with others. In that case, you can make your story private on Snapchat.
This article focused on two main methods by which you can easily get your answer on how to make a Snapchat story private. Carry on to find out the ways!
Way No 01: How to Make a Private Story on Snapchat from a Snap Tab?
The section of the app in which your phone's camera is switched on so you can shoot snapshots or make videos is known as the "Snap" tab. By tapping on the "circle" sign located in the center but at the bottom of a tab, you can find it.
Also, using the conversation tab or the discovery tab, you will be able to find it. Follow this step-by-step guide to learn how to make a Snapchat private story from a snap tab.
You need to snap a photo or shoot a short video first. Or you can just import one from your device's storage.
At the bottom of the page on the right side, you will see a menu labeled "Send To". Select that icon.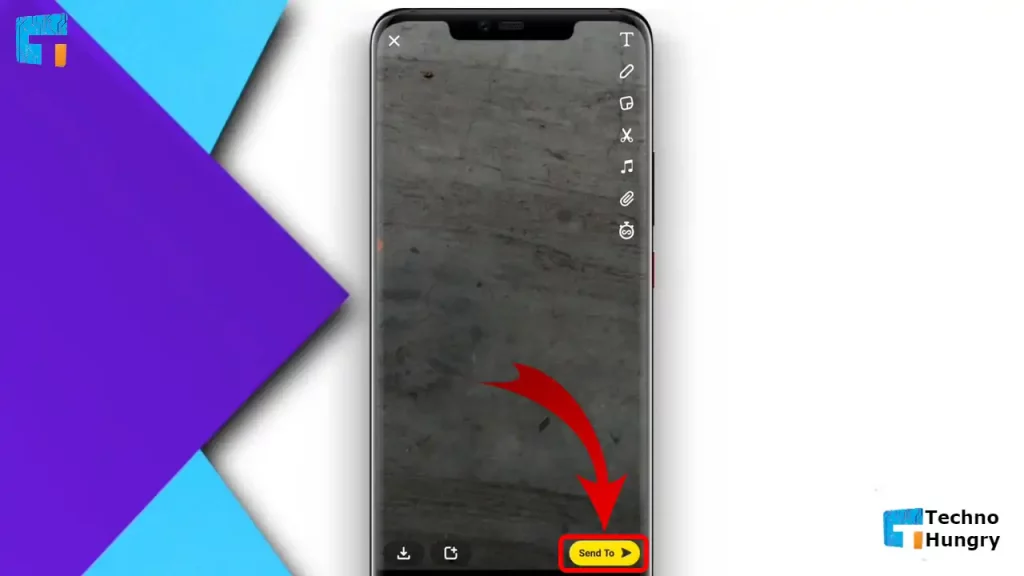 After that, tap on the "+ New Story" sign. It will open up a new pop-up showing two options "New Private Story" and "New Custom Story". Select the option "New Private Story".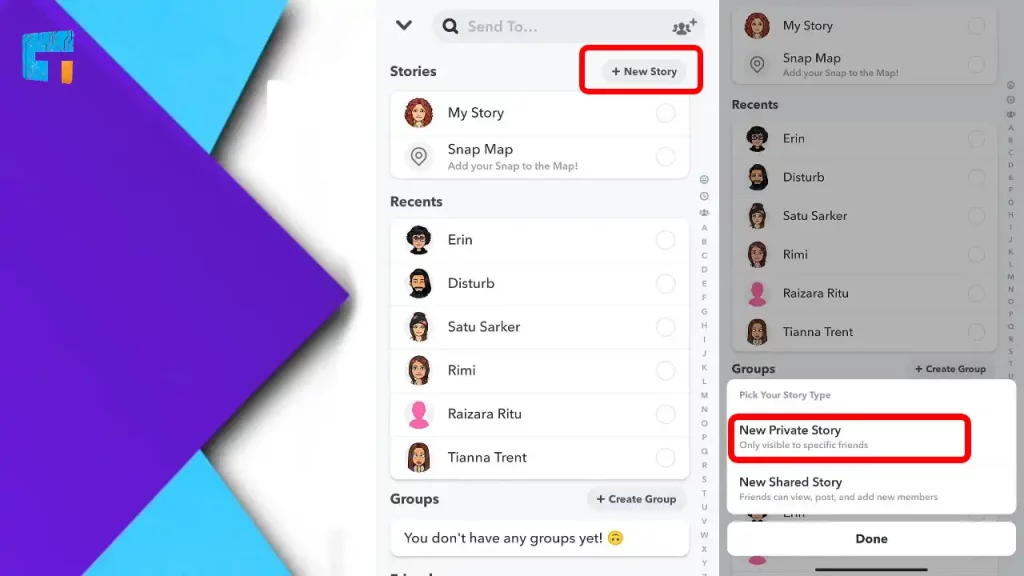 After clicking on that option, it will show you the friends group you have, such as your recent contacts, your best friends, family, etc. Or you can manually select the friends with whom you wish to share the content. After selecting a friend's name, you will see a green icon beside their name confirming your selection.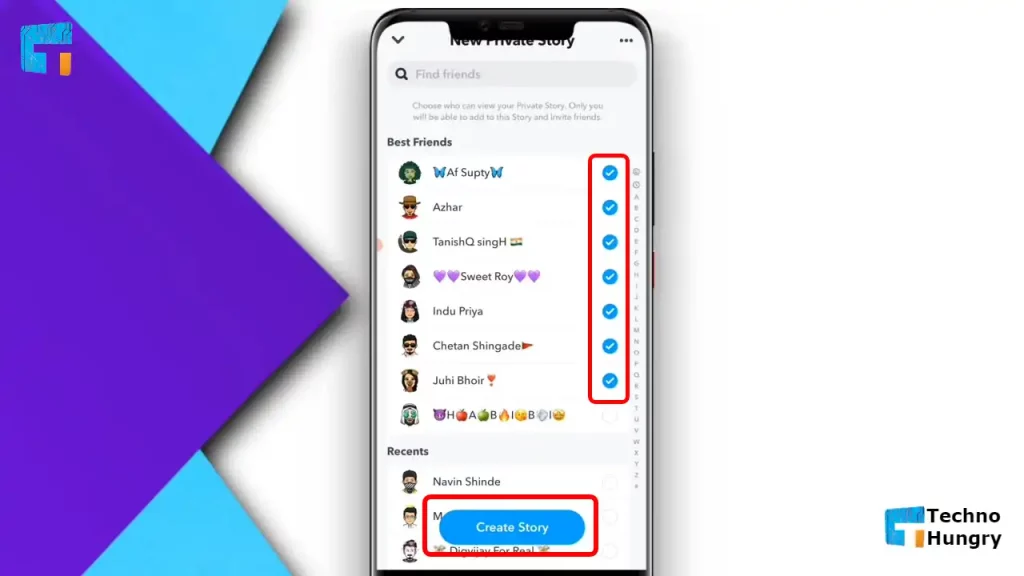 The final step is to click the "Create Story", and your private story on Snapchat will be posted.
Also Like: What Does the Hourglass Mean on Snapchat?
Way No 02: How to Make a Private Story on Snapchat from Your Profile?
You can also use your profile section to make your private Snapchat story instead of using the snap tab option. The steps to solve the problem of how to make a Snapchat private story from a profile have been discussed below.
Launch your profile page. Now tap on the menu "+ New Story".
Select the option for "Private Story".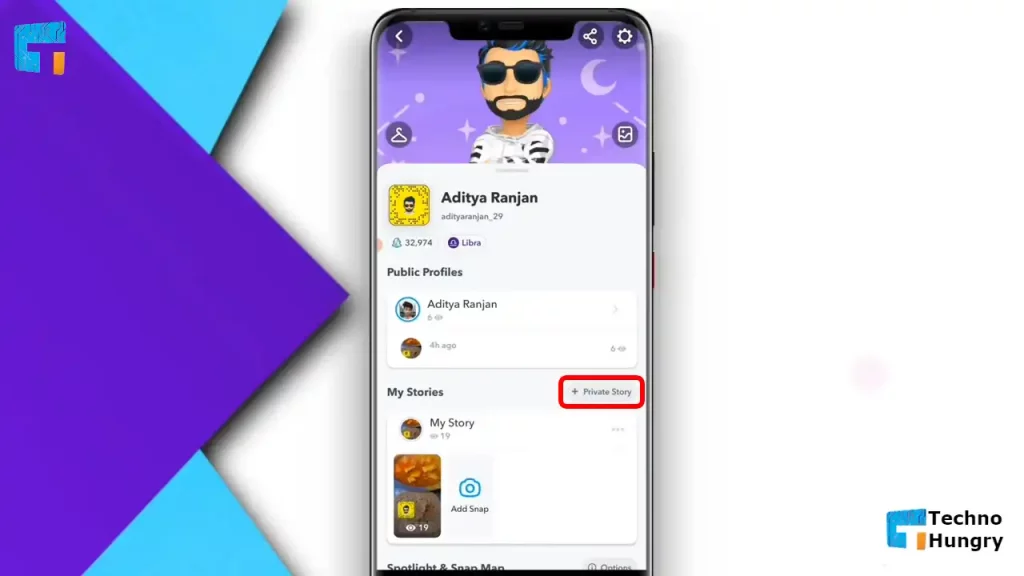 Now select the people with whom you want to share your private story. You can just select your available groups or you can do this manually by selecting the profile of your chosen friends.
After adding your Snapchat friends to the group, select "Create Story" located on the medial side below.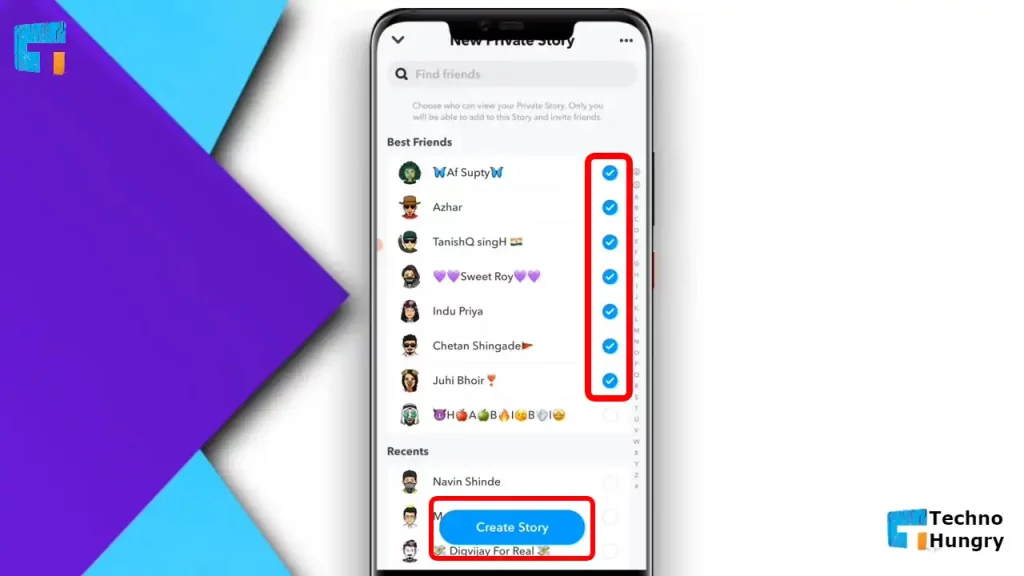 Give your private story a suitable name from the section "Private Story Name".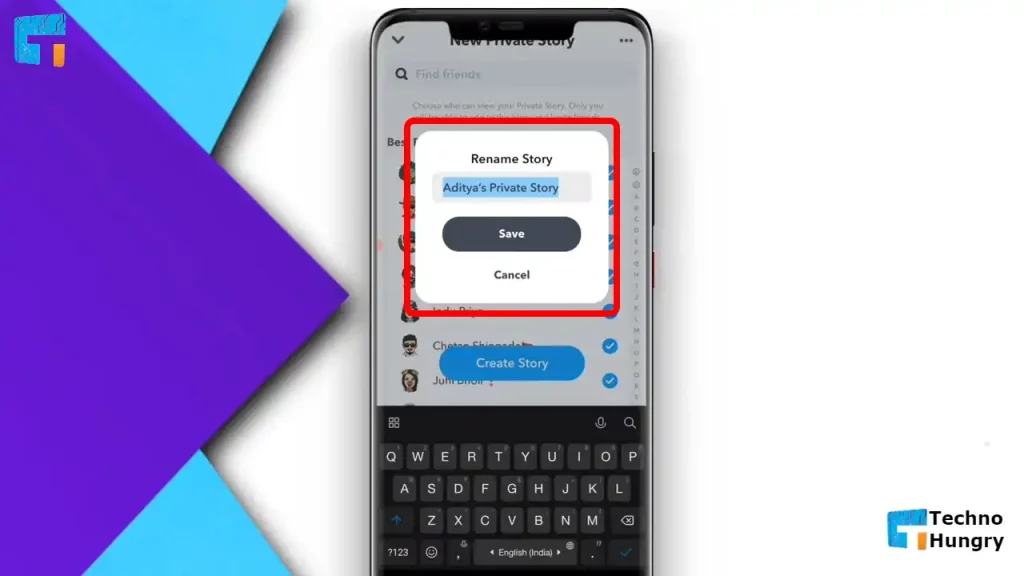 You can also add new people to this story by using the option "View this Story".
You can also choose to save your private story to your "Memories".
Now, to share your private story with your selected ones, you have to select the menu "Create a Story". You can also add photos or videos to this Snapchat private story from the "Snap tab".
If you want to add a new snap to this Snapchat private story later, then select the three-line sign, which is located at the right of your private story, and simply use the "Add to the story" option to add your desired snaps.
Like More: Why Does My Snapchat Say Other Snapchatters But Still Friends?
Way No 03: How to Make a Private Story on Snapchat from iPhone?
As the number of phone users is increasing day by day, the comparison of using Snapchat on iPhone is increasing. However, if you want to know how to create a private story on the iPhone, you need to follow the steps below. Here is a very simple presentation for you.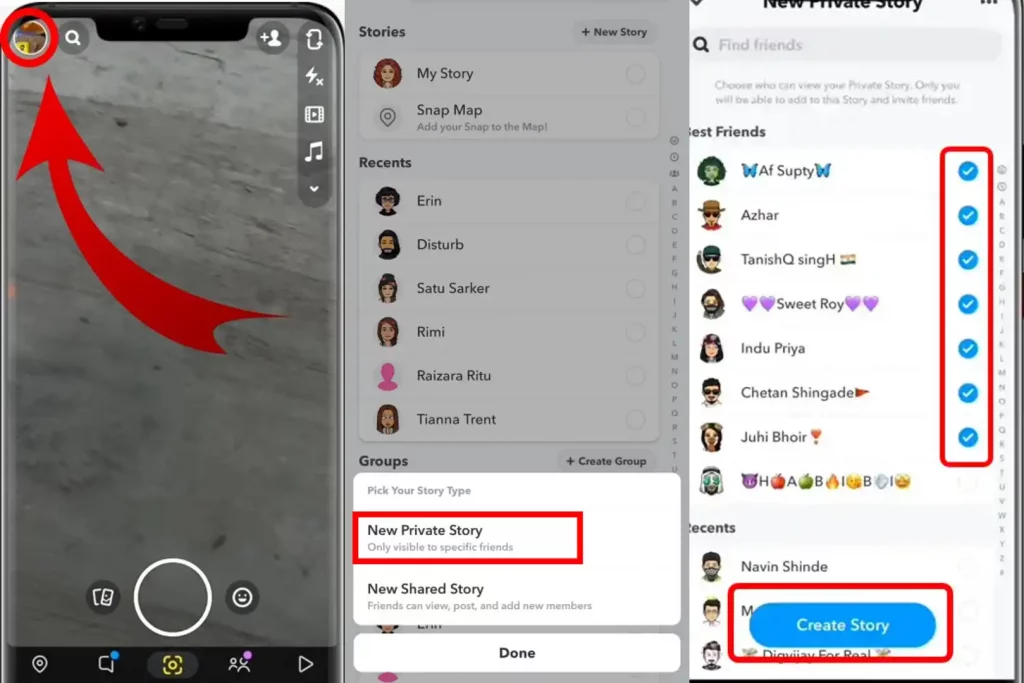 Firstly, launch your Snapchat app on your iPhone.
Then click on your profile icon from the right side of the launching screen.
Afterward, a page will be loaded where you will find the option "My Stories". On the other side of that option, you will see another option, "+New Story". Touch that option, and you will find two more options.
Select " New Private Story". It will take you to a page where you can select your preferred people. You can search for their names and add them to your new Snapchat private story, or you can choose from the suggested ones.
After you have added all your desired friends, select the option "Create Story".
Then you will be asked to give your Snapchat personal story a new name. After you have given it a name, choose "Done".
How to Make a Custom Story on Snapchat?
A simple step-by-step process can be followed to solve your problem on how to make a Snapchat custom story.
First, launch the latest updated Snapchat app on your phone. You can find the app on the storage of your mobile application, shown as the icon below.
Then you have to go to your profile.
After that, go to the section for stories, and you will find an option called "+ New Story". Select it.
After tapping on it, you will see two options. Select the option "New custom story".
Now you should add your preferred people to this story. After you have done adding people, tap on the option "Create Story".
Now you can give a simple and suitable name to your story and, after doing everything, click on the option "Done" to share your custom story.
Can I Delete a Snap from My Snapchat Private Story?
Snapchat has the option to delete a snap from your private Snapchat story. Follow the mentioned steps to successfully delete your desired snap from your private story.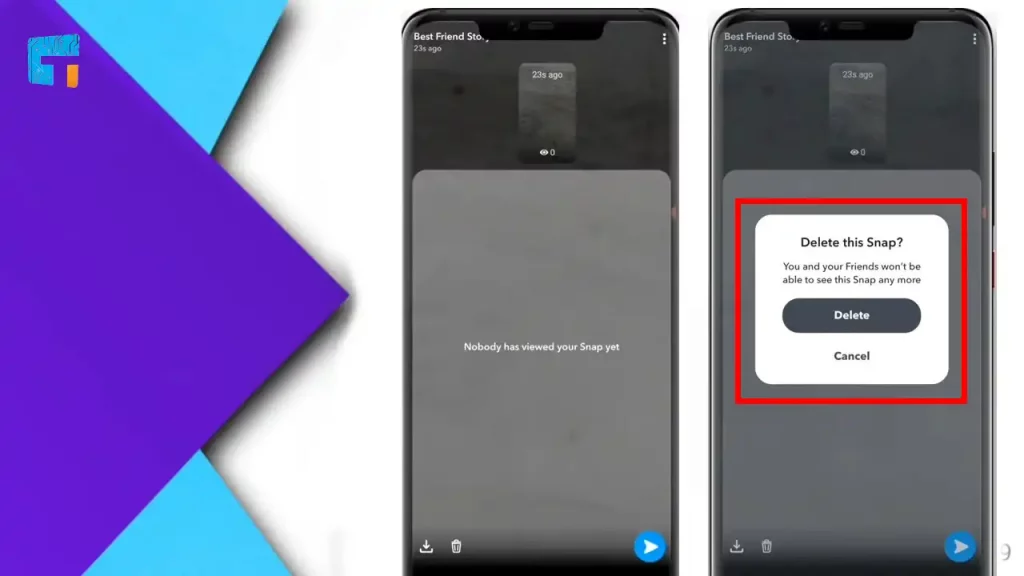 Go to your "Story" and select the "Private Story" you want to delete from it. Then select the snap from the story.
A three-dot option can be seen on the side corner of the snap. Select that option.
Selecting the option will give you a choice to delete that snap. Tap on "Delete", and another screen will appear asking for your confirmation. You need to tap on that screen too. Your selected snap will be deleted from the story.
FAQ About Make a Private Story on Snapchat
Is a Custom Snapchat Story and a Private Snapchat Story the Same?
Though these two names are almost similar they are different in one sense. Any Snapchat private story is made from a custom story. In a private story, only the editor can add or delete new snaps, while in a custom story, those who are added can add or delete new snaps and videos.
Is it Visible to Others When Viewing a Private Snapchat Story?
This section works like the normal story section. So, when you view a private story, the editor can definitely see it on the list.
Will the Editors Get a Notification When I Leave their Private Stories on Snapchat?
Snapchat does not send any notifications on who left the private story to the maker, but they can find it by inspecting the added person list.
Read More: How to Fix Snapchat? Snapchat Not Working!
Last Words
By now you may have learned everything about how to make a private story on Snapchat. So use the methods mentioned above to keep your favorite videos and images private. However, if you have any questions about this, you can definitely comment.