If you are a TikTok video creator but don't know how to see who shared your TikTok video it's not a good thing. Because it is very important for you to know how many users of the TikToks you create are being shared on their profiles or other social media platforms. So by reading this article you will be able to learn about this completely.
TikTok is a smartphone app that lets people make short videos called "TikToks." It's great to show your creativity to friends and family. Currently, this short video platform has gained immense popularity. So if you want to better monitor user feedback on your TikTok videos, you must regularly monitor video sharing.
Below are the ways you can easily learn about this topic. You can use any one method you like. So let's learn how to see who shared your TikTok.
How to See Who Shared Your TikTok?
TikTok is a video sharing app. With this app, you can make short videos and share them across the web. When you upload a video to TikTok, it automatically generates a unique URL that you can use to track where your video was viewed. This means you can find out who shared your video and see exactly when and where they watched it.
Is it Possible to View Who Shared Your TikTok?
It is NOT possible to see who shared your TikTok inside the app from their profile.
However, you can see if someone liked your video but not who did. You can also check views; this information helps you understand how your content is performing and whether there's room for improvement. To view this information, go to the Video section of your Profile.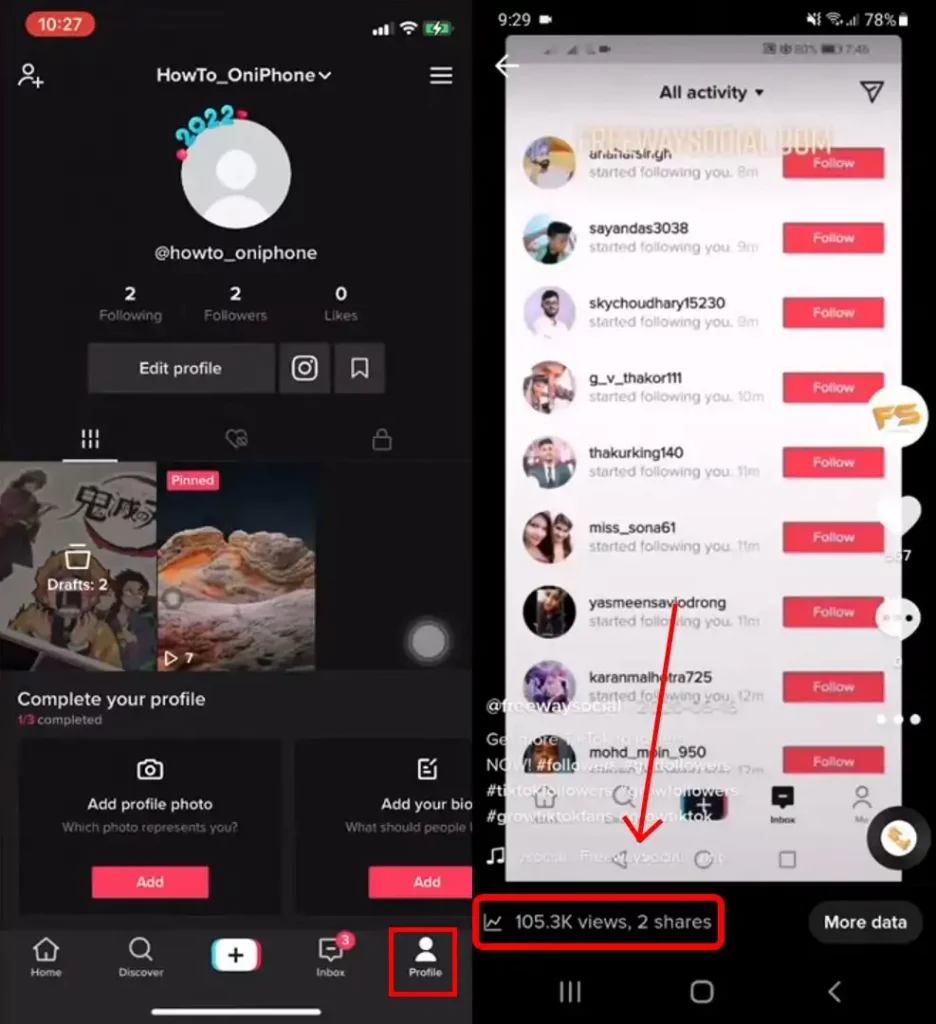 Tap on your Profile when you open TikTok.
Tap on the video.
You'll find a number beside the arrow icon, which indicates the number of shares you got on that particular video.
NOTE: You can also check this number of shares with lots of other analytics data using TikTok analytics.
What is TikTok Analytics?
TikTok Analytics is a free tool that helps you track the performance of your TikTok videos, and it lets you measure engagement, reach, and watch time. Once you've uploaded a video to TikTok, you can use this tool to find out where your audience lives, who watches your videos, and how many times each person views your content.
If you want to achieve success from TikTok, you can't afford to ignore this data. For example, you might notice that more people in Asia are watching your videos than those from Europe. That could mean your target market isn't as big as you thought. Or perhaps your videos aren't getting enough attention in certain countries.
Analytics also shows you how often people like your video. If your audience likes your content, then it makes sense that they will share it. However, it may be time to rethink your strategy if they don't like your video.
Use this data to accelerate the quality of your next video and increase its reach. To access this data, open the Analytics tab on your profile page. From here, you can find all your data and choose which one to analyze by yourself:
Engagement: This shows you how much people have interacted with your video.
Reach: Tells you how far your video went.
Watch Duration: This shows you how long people spend watching your video.
The best part about this feature is that you can compare these numbers across different types of videos. So, if you upload many music videos, you can see how well your musical clips perform compared to others.
How to Find Out the Number of TikTok Shares You have Using Analytics?
Check TikTok shares using Analytics,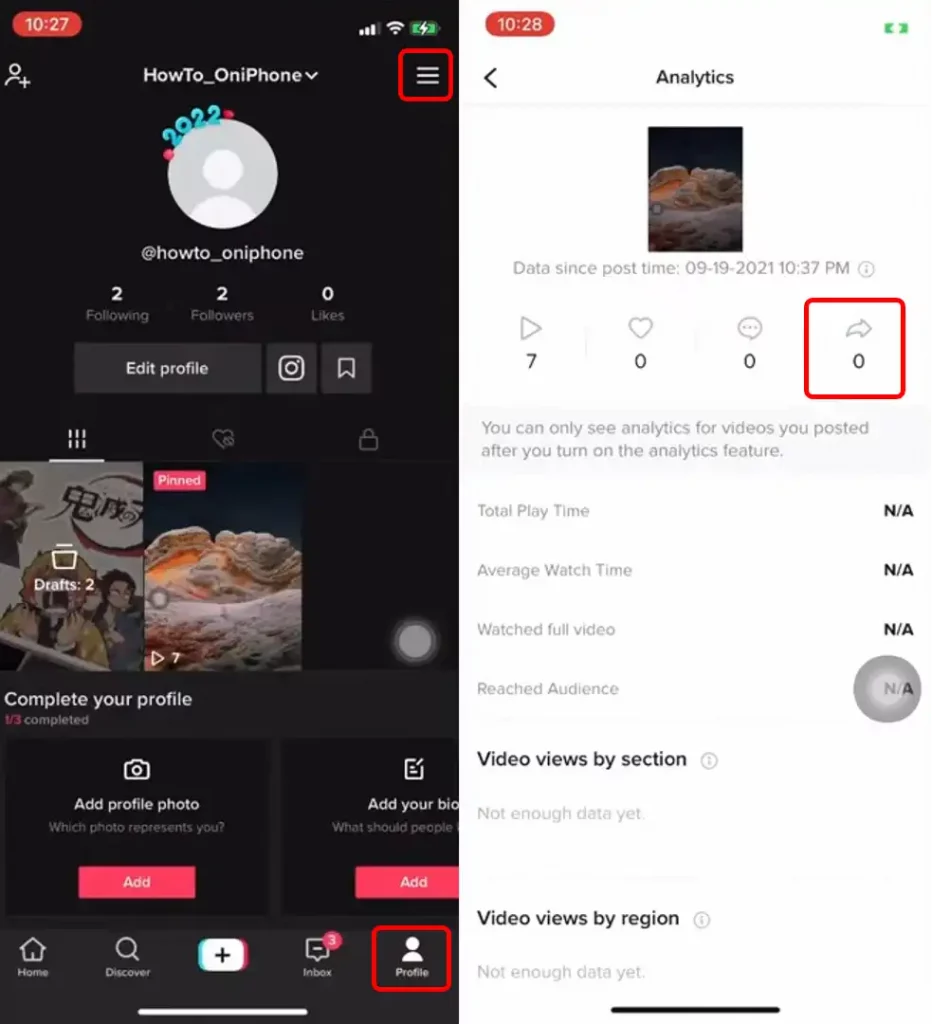 Launch TikTok and select "Profile."
Click on the icon with three horizontal lines in the top right corner.
Tap Creator Tools.
Tap Analytics.
In the Engage menu, click on Shares.
OR, click on Content.
Click on any video.
Find out how many times it has been shared by looking at the number under the arrow on the right.
So now that you know, TikTok doesn't allow users to specifically see the list of profiles who shared your TikTok video due to some privacy concerns. But it provides other valuable data about your content to improve the quality of your TikTok videos.
Read More: How to Change Phone Number on TikTok?
Why I Can't Share My TikTok Videos?
If you're not allowed to share your TikTokes, you might need to change some settings first. To make your account public, follow these steps.
Open TikTok and click Profile.
Click the three-line menu in the top right corner.
Tap Settings and Privacy.
Tap Privacy.
Make sure the toggle next to the Private account is turned off.
You can disable individual notifications or disable them for likes, comments, and everything else.
Your friends will now be able to share your videos. You can also add a caption to your video and choose if you want to share it publicly or privately. If you share it publicly, others will see it when they search for similar videos. Switching to private will allow only you and your friends to watch it.
For You: How To See Who Liked Your TikTok Videos?
What Other Ways Are There to Share TikTok Videos?
TikTok can be shared via the Stitch feature. You can also share your videos with others who aren't on TikTok. Go to the profile page of the person you want to share the video with. Then in the upper right of the screen, tap the icon that looks like a stitch.
Now you will see all the videos you've ever made available for sharing. Choose the clip you'd like to send out. And finally, select the share button.
Also, you can tap the 3 dots in the bottom right corner. Tap how you want to share the post. How do you share a TikTok video without a link? You can post videos directly to Facebook, Instagram, Twitter, and YouTube, as well as TikTok.
You also have the options like WhatsApp, Telegram, and Viber to send them. Once uploaded, your followers will see a notification about the video and can click on the Share button to watch it.
If they want to share it themselves, they can copy the URL from the notification and paste it into any app that supports sharing.
Read More: How to View Locked Facebook Profiles?
Last Words
The video-creation app TikTok allows you to record and upload your creations, among many other everyday tasks. As a result, the number of TikTok users is increasing day by day.
However, for some privacy reasons, TikTok doesn't tell you who shared your video or let you know if they did. So hopefully you have been able to find the right answer to this question "How to see who shared your TikTok" from the extensive discussion above.