Today I will share "How to Install Old PC Games on New Computer – 3 Easy Ways". Those who have spent their childhood playing PC games will surely want to go back to those games. I know many people want to install old PC games on new computers. Want to enjoy old games again. Today's post on how to install old PC games on new computer.
Nowadays, everyone prefers to play games with modern graphics. But no matter how modern and advanced the graphics of the game, those old games are still in the minds of experienced gamers.
So let's not wait for you to go to the main topic "How to Install Old PC Games on New Computer".
How to Install Old PC Games on New Computer? – 3 Easy Ways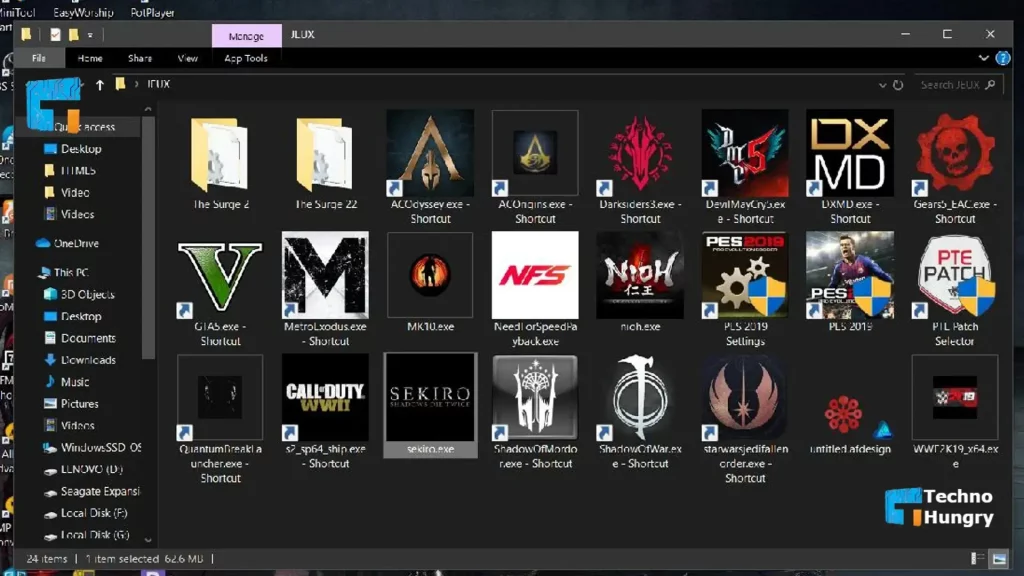 There are many ways to install old games on a new computer. Among the most popular and straightforward 3 methods, I will discuss how you can do the work effortlessly.
Way No1: Install DOS Games
Download DOS Emulator
The operating system (os) cannot run Dos games on the PC. But you can bypass this problem and use Dos if you want. You will need an emulator for this.
Hope you got a clear idea about the emulator. Now know, the most popular and Highly Recommended Emulator is DOSBox. This emulator is completely free, so you can easily download it by searching on the Internet. So your first task will be to download and install DOSBox. For your convenience, I have given the download link of the emulator below.
Find and Download DOS Games
There are thousands of DOS games on the Internet. But you don't like so many games. So download the old games of your choice from the Internet.
Follow the Instructions
When downloading many DOS games, some files are attached to the main file. All the files have different instructions. Please read the instructions once while downloading.
Create Folders for DOS Games
It is recommended that a separate folder be created for the DOS game and that the folder is on the primary hard disk. I.e. in C or D drives. Here are two files recommended to you.
Download the Virtual Drive
Open DosBox via the text interface and type in the command mount c C: \ DOSBox. This command will help you install the game.
Install the Appropriate Program
Which game you are downloading will depend on where the installed files of your game go. Normally you would type the mount d c:\DosGames\installfolder command. But you need to follow different instructions to install it properly. It will give this instruction in your downloaded file.
Also Read: How to get more Dwellers in Fallout Shelter?
Way No 2: Install Games with Wine Windows
Download the Latest Version of Wine Software
Wine is a program that acts as a bridge between Linux and Windows. It is often referred to as a connector between two programs.
Using this wine program, you can quickly run the games supported on the old OS in your current version. Your PC will remain as it is, even after installing this wine program.
Let me say one thing here. Many users recommend using Ubuntu. So before downloading, see if it suits your PC system.
Download the Application
If you search online, you will get your wine application. Moreover, It can download all databases from appdb.winehq.org.
Compile the Wine Program
This step will depend on which OS system you are using. So it would help if you found out which package works for which. Check your PC 32 or 64 bit first.
You can then visit Wiki Wine Hq to find out which pack you need. Each pack is different. If you are an Ubuntu Linux user, you do not need to use a compiler.
Use Wine as a Source
This step will depend on the previous step. If you are an Ubuntu user, go to other software from software & updates and click on add. Command there PPP: ubuntu-wine/pp.
Now you can click on Add Source. Then click to write Authenticate. It is the end of the work.
Finish the Wine Install
Now the work of Authenticated and the work of adding the source file is over. A dialogue box here will ask you to reload. So click on the reload option. Then turn on the program, search for the wine file, click on the wine file, and click Install to finish the job.
Create a Wine Folder
Create a folder on the hard disk as before. As before, I would say to create a file in C or D drive.
Configure the Wine
Now open your wine folder and configure it properly. Use the terminal to enter the command by typing winecfg from the command prompt. Now a configuration window will appear. There you will see a folder called Drive. Open the folder and enter the C drive. Then press OK.
Install the Windows Application
Now go to preference and cinephile from Go to the system. Navigate to the installer file from there.
Run the Program
Now all the work is done, install and run the program the same way you install the software on your Windows.
For You: How to Tell Which Direction a Pokemon is? – Best 9 Steps
Way No 3: Installed from Disks
Boot the PC completely
Boot when starting PC with CD. Refrain from booting before the piece is fully turned on.
Insert the Disc
Now invert your disk. Before that, check if the CD program will support your PC. I will also tell you how to check.
Install the Application
Ignore the popup installer. Click the Select button to close the window. Select the Properties option from the drop-down menu.
Read More: How to Change Name in PUBG Mobile & Reset your Appearance?
Support your PC
If you know the version of your PC, you can quickly know if it will support your PC. Check compatibility for this.
Hope to know more about How to Install Old PC Games on New Computer – 3 Easy Ways. If you have any questions about How to Install Old PC Games on New Computer, please comment. If you find this post helpful, be sure to share it with your friends.