Is virtual gaming an attraction to you? Does your VR headset seem old already and you want to change it but can't decide which one to buy? Have you heard about Oculus Quest 2 and want to buy it? Maybe you are concerned about does Oculus Quest 2 come with games? Then you are at the right place.
You may want to know details about this well-heard headset. Let's carry on through the post to know does Oculus Quest 2 come with games.
What is Oculus Quest 2?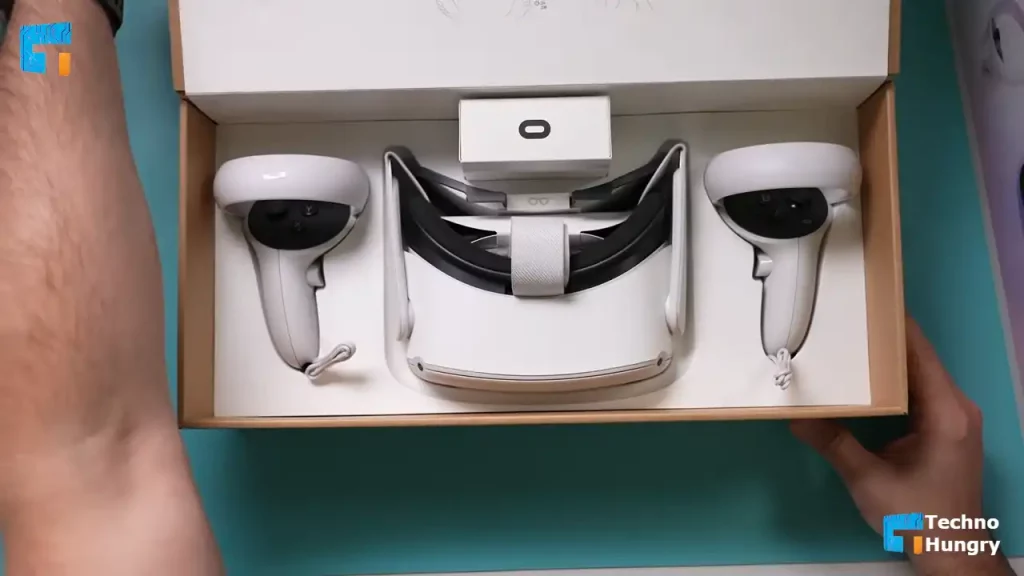 Oculus quest 2 is that device that gives you that impressive and detailed experience while it offers you a very lightweight thus comfy feeling. It is that top tired VR headset which is popular for its portability too as you don't have to worry about wires and kinds of stuff.
Also, it comes with a huge option of downloadable games and thus you can almost play all of your favorite games on it. It includes the interest of both normal game lovers and professional gamers. So, you don't have to worry whether you will find your suitable ones available for download.
Does Oculus Quest 2 Come With Games?
You may want to know does Oculus Quest 2 come with games. For answering this question, it certainly comes with some pre-installed games. That gives you the opportunity to play your chosen virtual reality game right after unboxing your newly bought Oculus quest 2 headsets.
But it does not give you access to the full version. They are just demos to give you an insight into what is waiting for you and what can you do with it. But these demo games are great for testing your own preference also maybe you can be able to find a new genre that will make you excited.
You need to download the full versions of those games from the store of oculus quest 2 headsets to continue playing the full game.
What Games Come with Oculus Quest 2?
So, after knowing that Oculus Quest 2 comes with some pre-installed games you maybe want to know about them now.
You will find 5 preinstalled demo games on it. A really stimulating rhythm game Beat Saber will make you feel challenged and a rush of adrenaline will make you go crazy.
Want to have some real punching experience? Then Oculus Quest 2 also brings that for you. You will find a demo of "Creed" here to play and either you can let your frustration go or you can just have a relaxing time after playing this game.
Do adventure as well as action-type games attract you? Then Journey of The God is a must-try for you. This demo will give you that calm still exciting feeling. You can rescue a little land and make your own empire.
Are you into shooting and aiming? Want to have some real experience of fighting with robots and kinds of stuff? Do you imagine yourself as the gunner who comes to save the world from unknown danger? Then Space Pirate Trainer is the one for you. Try it and you can enhance your shooting skills. It is all about firing and fighting some robots that are flying or floating in the air.
And the last one is Sports Scramble. It is all about scrambling three games; tennis, bowling, and basketball.
Except for these pre-installed video games, you can also play many multiplayer VR games free on this device. 
And you will also find a lot of free games on the store for Oculus Quest 2.
Does Oculus Quest 2 Come With Free Games?
As for the cost, you don't need to worry as Oculus Quest 2 is also like the other VR headsets that come with free games. You just need to search for it in the store available for this headset in the store and you can just download them from that store and you are ready to try those exciting games.
How to Get those Games on Oculus Quest 2?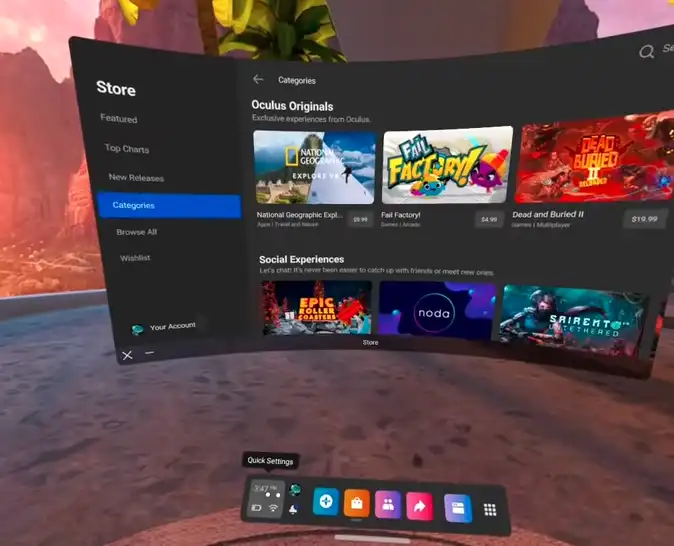 So, after knowing that Oculus Quest 2 has many free games, now it is time to try those, right? You will be able to learn to install your favorite games on your favorite headset here.
As the user-friendly policy it follows, the installation process of those games is really very easy. You can download them from the store available for the headset. Follow the below instructions to install those games you love to play or the new games that you want to try.
First, after powering on the headset open the menu. You will find the option from the menu controller.
From that menu option try to find the store icon and you need to tap on that. This icon seems like a shopping bag with vibrant orange color.
Then search for the game you have on your mind from that store.
After finding the game, you will see a "get" option besides that game. Now, tap on that for downloading that game on your device.
The free games will be downloaded on your device just after tapping on that option.
As for the paid ones, a few more instructions needed to be considered. An option will be found to enter the password. You need to enter your Oculus Quest 2 password in order to get the authorization for that game.
Except for those, you can just download some common games. Don't ignore that games cause they also give you a really exciting experience.
Related: How to Install Old PC Games on New Computer?
Are there Any Exciting Free or Casual Games on Oculus Quest 2?
As before I have told you to give those familiar games a try, now, you may want to know if I can recommend you some of them. As myself a gamer I want to share with you some of them that may make you interested. You may want to know does Oculus Quest 2 come with games that I am going to share. Frankly speaking, they do not. But don't worry cause you can just get them from the available store.
Echo VR
Is gravity bothering you sometimes? Want to try something about that really common hockey and Frisbee? Then this one is perfect for you.
Though you will find a lot of games like this they are all paid. And on top of being free, it is one of the best among the games of the same genre. This game will be found in the store and is available to download that also for free.
Tea for God
I guess if you are into VR games, you may have heard even played them many times. Yes, you will also find this oldie goodie on Oculus Quest 2 headset just like other VR sets. And what is more? This arcade game is also free to install.
Home After War
You will find a lot of traps in this game. Also, some really tough challenges may need to be conquered to keep playing this game.
This game was designed based on the Islamic State or IS. This game allows you to explore a city that is under the control of IS.
Pavlov Shack
This is on the shooting genre gaming.
This one is just right for you if you want to experience some shooting games that come completely free on Oculus Quest 2.
Gun Raiders
This one is definitely among the best free games available on Oculus Quest 2. Try it yourself and you will also agree with me.
This is a multiplayer shooting game but the various different and exciting modes make it stand out from all of the other shooting games.
Is a Social Media App Available in the Oculus Quest 2 Game?
Want to know whether you can attach your social media accounts to your Oculus Quest 2 headset? Actually, you can add them too. It supports both Facebook and Instagram apps. 
How to Find the Downloaded Games on the Oculus Quest 2?
It is easy to find your downloaded games or recently added games on Oculus Quest 2. You will find a gray-colored icon on the main menu bar. You need to touch on it. Then it will show you all the installed games listed there.
Read More: 5 RPG Games for Low-End PC
Last Words
Maybe you just wanted to know, "Does Oculus Quest 2 come with games?" but this post gives you a brief insight into the games that Oculus Quest 2 has to offer you with the answer to your question.
If you find it useful and still have some confusion popping out of your mind about Oculus Quest 2, then don't hesitate to comment down below and let me know. You can also share your own experience with your favorite game on your device with me using the comment section. And stay in touch with us if you want to know more about this type of stuff.