People who create new YouTube channels don't want to see their subscribers. For this reason, most of them hide the number of subscribers in their channel. But did you know, How to Hide Subscribers on YouTube Channel? Since you have opened this post, you may not know its details. But don't worry, because by reading the whole post, you can learn about How to Hide Subscribers on YouTube Channel.
So when our YouTube channel is new, the number of subscribers to the channel is definitely less. In this case, we do not want to spoil the impression of our channel by showing 100/200 subscribers to the viewers. And so, there is an option in YouTube, which can help us in this case.
The rules for hiding YouTube channel subscribers are elementary. You can use this option just by following a few simple steps. After hiding the subscriber on YouTube, the subscriber count will not be shown there if you go to your channel.
Remember: If your YouTube channel subscriber count is hidden by default. However, you can follow this process to show the channel subscriber again. The same rule should hide or show the subscriber in both cases.
So let's take a brief look at How to Hide Subscribers on YouTube Channel in 2022.
How to Hide Subscribers on YouTube Channel – Step by Step Guide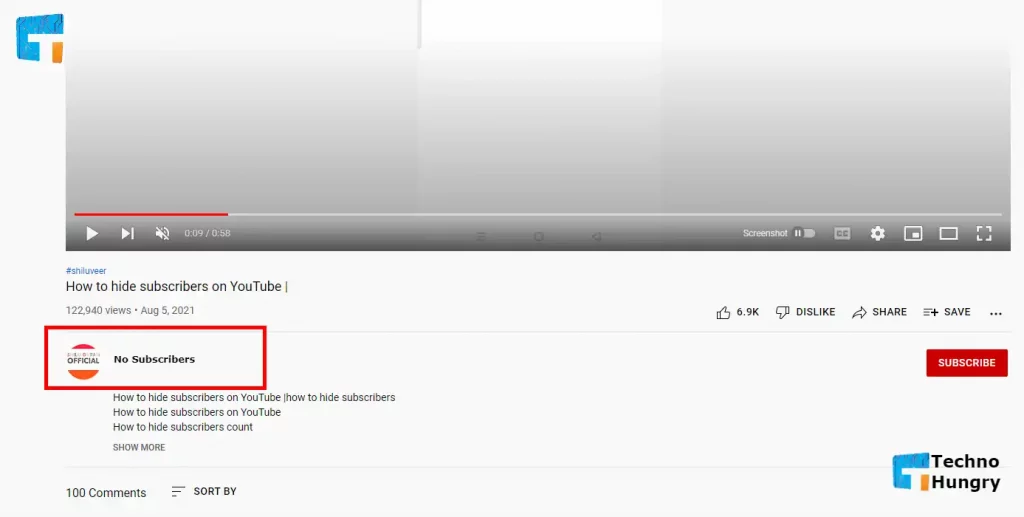 Below, the steps that have been shared on the topic of "hide YouTube subscribers" can be done computer & mobile. If you want to follow the steps given below through mobile, then.
Install "Google Chrome Browser" on your mobile.
Now open Google chrome browser and select "Desktop View." Now type "www.youtube.com" in chrome browser and press enter.
This way, you can use the desktop version of YouTube on your mobile.
Now, let's know the rules to hide the subscribers of YouTube channel step by step.
5 Steps to Hide Subscribers on YouTube Channel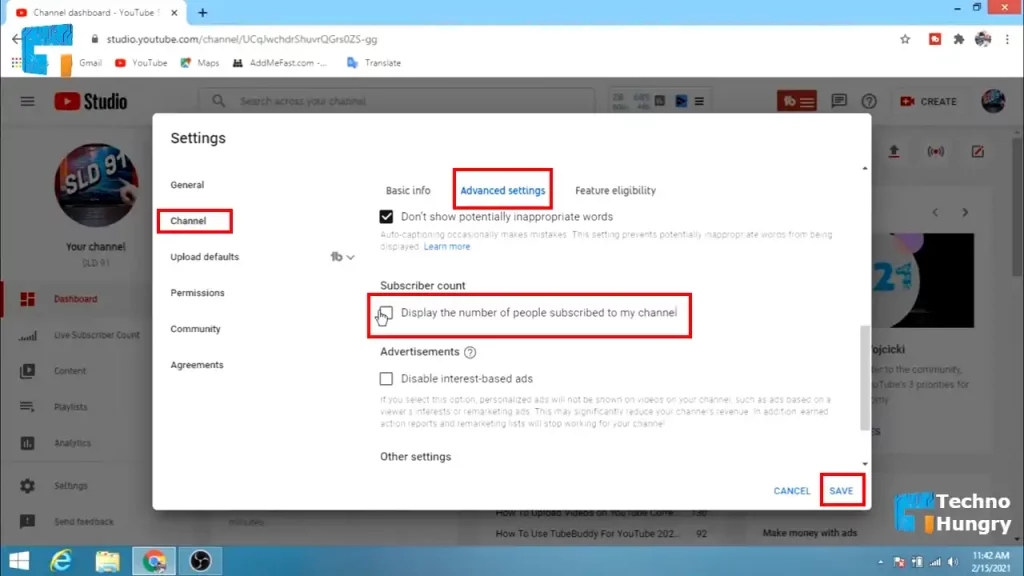 Step No 01
First of all, open the browser and visit the website of "www.youtube.com."
Now login to your own youtube channel.
Step No 02
After logging in to YouTube, you are shown your YouTube dashboard.
You will see your channel's icon or logo on the top right of the dashboard.
Now click on the channel icon or logo.
After clicking on the Channel icon, you will see some options.
From the options, click on the option called "YouTube Studio."
Step No 03
Now, you will see the YouTube Studio dashboard in front of you. You will see almost every piece of information related to the channel through the YouTube Studio dashboard. For example, comments, published videos, video analysis option, monetization option, etc.
Now, we don't have to worry about any other option. Click on the "settings" option on the bottom left-hand side of the dashboard.
Step No 04
Now, look at the left-hand side of your channel settings page; there is a list of some options.
There is an option called "channel" in the list of options. Click on the channel option from here.
Step No 05
After clicking on the channel option, some options will be shown. These are: Basic Info | Advanced Settings | Branding | Feature Eligibility
You need to click on the "Advanced Settings" option to hide subscribers.
Clicking on the Advanced settings option will show you some more options.
Scroll down the mouse, and you will see a box of "Subscriber count."
Since you do not want to show the subscriber count with your channel, leave the box blank (uncheck). By default, this option will be enabled.
Click on the box to remove the checkmark and disable the subscriber count option.
Now, click on the "save" button below.
Congratulations, because you managed to hide the number of subscribers to the channel on YouTube. Now those who will check the profile of your youtube channel will not be shown the total number of subscribers of the channel.
Read Also: How to add a logo or watermark to a YouTube Video – 2 Ways
How to Enable Subscribers Show Option on YouTube Channel?
You have learned above how to hide subscribers on YouTube channels. But now, you need to know how to enable subscribers to show options on YouTube channels. By doing this, you can show the subscribers as per your need at any time.
To show Subscribers Hide on your YouTube channel,
Follow Step No 1 to Step No 4 Discussed Above.
Then enable the "subscriber count" option of Step No 5. This means that if you check the "Subscriber count" option again, the channel will start showing the total number of subscribers.
Read More: 5 ways: How to protect your YouTube channel from Hackers?
Last Words
Hope you know all about How to Hide Subscribers on YouTube Channel. Friends, whatever the reason, if you want so that no one can see your total number of channel subscribers, then use the above rule and hide the channel subscriber count. Please let me know if you have any further information on this topic.
Use the comment box below to ask questions about How to Hide Subscribers on YouTube Channel. I assure you of the correct answer to your question in doing so. If you want, you can share this post with your friends now. By doing this, those who do not know about this will also know.