If you use the Internet all day like me, you need to know How Does a Virus Infect Your Computer. Otherwise, your computer may be infected with a virus. So if you already know How Does a Virus Infect Your Computer, it will be convenient for you to prevent it.
A virus is a kind of artificial programming software on a computer. Which enters your computer system and causes damage. Which are made by different hackers. Through which your laptop is damaged, and various information is taken. So today, I will teach you How Does a Virus Infect Your Computer?
4 Ways: How Does a Virus Infect Your Computer?
Computer viruses do not float in the air! They enter especially from pen drives and the Internet etc. Again the virus spreads from cracked/pirated software.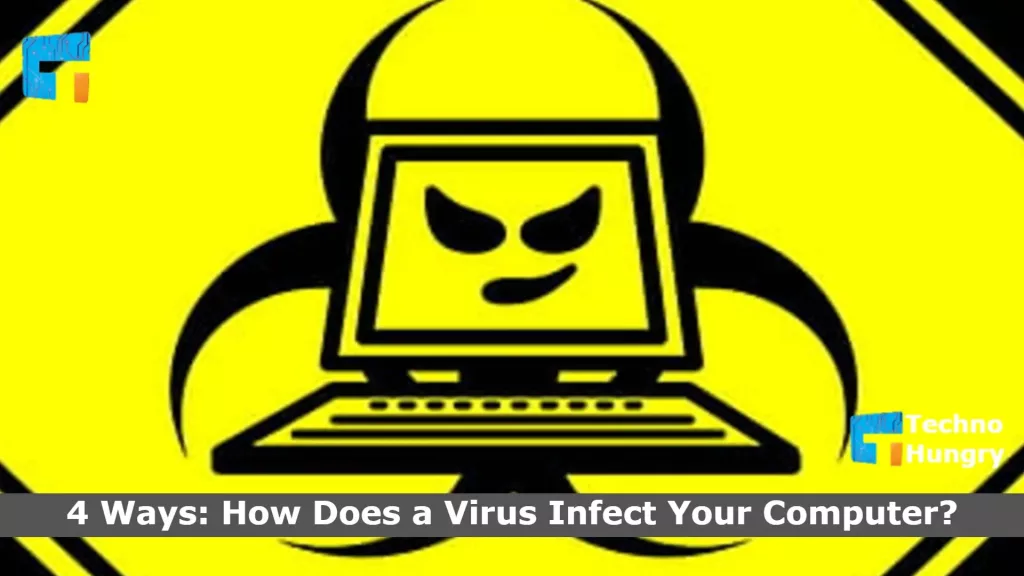 By a Pendrive or Memory Card
Most of the computer viruses are spread with a pen drive or memory card. If a pen drive or memory card is inserted into an infected computer (which contains a virus), the virus on that computer becomes an auto-copy on the pen drive or memory card.
Suppose you insert a pen drive or memory card into a good computer. In that case, the viruses will try to enter the new computer, even if you do not take some precautions or your PC does not have antivirus.
Windows 10 is more likely to be infected than previous ones because Windows 10 has the default antivirus, Windows Defender. All you have to do is update it from the net.
By a Cracked/Pirated Software
Many of us use the pirated or cracked software of Paid Software with ease. But most of them contain viruses or malware. Someone installs Silent and steals your PC information. Someone becomes violent. In that case, it is better to use free software. And if you have to use cracked software, also use antivirus.
By a Floppy Disk
The virus enters the computer when you write a virus to the floppy disk and insert this floppy disk into the computer.
By Spreading the Virus from the Internet
Especially if the virus can come to the site through offensive websites, even if you visit those sites, the PC can be hacked silently. And you have to give the password by looking at the URLs of the websites where you have to provide the password and confirm the password. Otherwise, you can fall prey to phishing.
What are the Symptoms of a Virus Attack?
The computer will slow down. The speed of the program will be significantly reduced.
Will get stuck while working, will hang. The keyboard will not work with the mouse.
The computer will take a long time to turn on. And it will take a long time to stop.
The PC restarts automatically and can continue even if the program runs.
The system's control panel, folder options may be hidden.
Can give a red signal when changing a function.
Can provide different notifications when working on the system.
Any drive or folder can be locked, asking for dollars.
Just clicking on the folder can corrupt it.
The method may receive various notifications, such as icon notifications.
Just clicking on a folder can open many tabs or windows.
Can't format the drive. Bad sectors can be created on the hard disk.
A shortcut folder can be made just by inserting a Pendrive on the computer.
What to do if Infected with the Virus on your Computer?
If the computer is infected with a virus, you need to scan it using any free or premium antivirus. Norton, Avera, Panda, E-Scan, Caparisk, etc., can be used as Avast and Premium for free.
If a virus enters any drive of the computer, it should be scanned with antivirus. If necessary, a full disk scan should be done. If necessary, the infected drive of the computer should be formatted.
Proper use of registry tools and folder properties can bring back various options if infected with a virus. If possible, you need to install a new operating system.
18 Most Dangerous Computer Virus Name
CryptoLocker
ILOVEYOU
MyDoom
Slammer
Stuxnet
Storm Worm
Sasser & Netsky
Anna Kournikova
Clop Ransomware
Fake Windows
Zeus Gameover
RaaS
News Malware
Fleeceware
IoT Device
Social Engineering
Cryptojacking
Artificial Intelligence
09 Powerful Computer Antivirus Name
Norton Antivirus Plus
F-Secure Antivirus SAFE
Free Avast Antivirus
Kaspersky Anti-Virus
Trend Micro Antivirus + Security
Webroot Secure Anywhere
ESET NOD32 Antivirus
G-Data Antivirus
Comodo Windows Antivirus
Also Read: Malware is Spreading in the Name of Windows 11
Ok finally, you learn How Does a Virus Infect Your Computer. If you have any questions about this topic, let me know in a comment below. Also, share this post with your friends to let them from the virus.